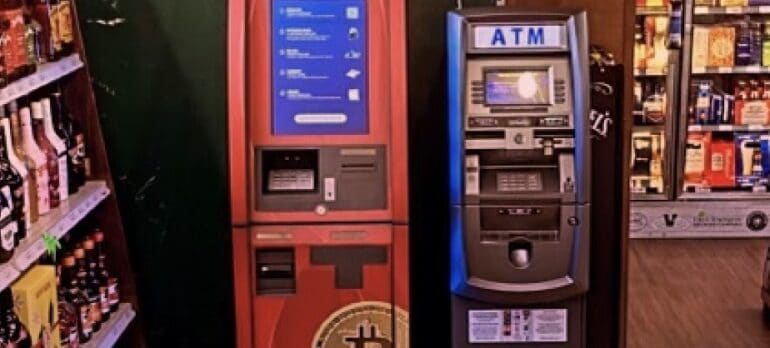 Bitcoin ATMs (BTMs) have surged in total installations and consumer use as cryptocurrencies grow in popularity. Customers and businesses alike have pivoted to digital currency as a method of payment transactions, and that has propelled the BTM market to a forecasted 58.7% compounded annual growth rate between 2020 and 2026. Placements of cryptocurrency ATMs have increased (above 23,000 as of July 2021) as entrepreneurs meet consumer demand for access to Bitcoin.
As the Bitcoin ATM market is flooded with more machine options (and at varying states of quality), it becomes increasingly difficult to find the ideal Bitcoin machine that can meet and surpass your success metrics. The BTM you select will affect your potential return on your investment, and well-supported and high-level kiosks can reduce your expenses, limit support tickets, increase security, and offer better ease of use.
Finding the right selection criteria and applying them to different BTM providers ensures you make an informed machine purchase that protects your investment.
Introducing Chainbytes
We have already shown you our top three picks for the best ATMs available for installation (which you can read here), and in this blog, we will review another excellent Bitcoin ATM provider — Chainbytes. We will look into their line of 2-way and desktop kiosks, along with a new 2020 ATM release of Chainbytes 2.0 +.
Tips for Buying the Best Bitcoin ATM
Before we dive into Chainbytes and their Bitcoin kiosks, it is important to know the benchmarks of top-level BTMs to help compare the strengths and weaknesses of each machine. Use the following selection criteria to ensure that you purchase the right BTM for your needs and get the most value from your purchase:
Partnerships. Bitcoin ATMs integrate with a variety of partner solutions to facilitate all transactions and innovative solutions. Connections between your bank, hot wallet, online cryptocurrency exchanges, and manufacturer support rely on physical and digital infrastructure. The more partnerships a BTM has, the more reliable and scalable you know their solutions are.
Local Support. For those that want to set it and forget it, finding a manufacturer that offers robust technical support is critical for ease of use and reduced downtimes. From hardware malfunctions to software repairs, high-level local support can pay dividends in the lifecycle of your BTM.
Warranty. Component replacement and effective manufacturing warranties can protect you from software errors or defective kiosks. A comprehensive warranty will cover any expense for parts (often including shipping), and it speaks to the customer service of your Bitcoin ATM provider.
Security. A high level of security is critical to prevent theft, fraud, or other malicious activity that can hurt profits. Look for machines with strong physical structures and locking mechanisms, secure digital environments, and several other security features, such as pin code requests, cameras, and ID scanners.
Compliance. Money service businesses and payment providers are subject to stringent regulations (even though the currency itself is deregulated). Select a Bitcoin ATM that meets compliance standards such as Anti-Money Laundering (AML), Know-Your-Customer (KYC), and Customer Due Diligence (CDD).
These tips and quality metrics can help you select the perfect Bitcoin ATM for you and your business.
ChainByte Bitcoin ATM Review
ChainBytes is a blockchain software and hardware company with a stated focus on "complete turnkey solutions." As blockchain experts, they provide technology applications such as digital pay and blockchain tokenization, and the company's value stems from their plug-and-play BTM manufacturing services.
By simplifying the creation, technology service, and installation of crypto ATMs, Chainbytes allows you to create effective white label business models for BTM investments. You can even apply branded wraps to the outside of their machines for efficient marketing material. The software technology is the primary driver of Chainbytes' success, and what they lack in customer support and distribution, they make up for in BTM customization.
Chainbytes also scores well according to our selection criteria:
Partnerships. Chainbytes has a series of partners that facilitate distributing its software services, but the company is limited in its software integrations. Since Chainbytes has its own high-level software solutions, it does not rely on other technical partners. For the sale of machines in new markets, technician support, and compliance requests, Chainbytes has partner integrations with companies such as Hippo Kiosks, BTM Compliance LLC, CoinOutlet, and Bayside Corporation.
Local Support. Chainbytes puts less importance on local support than market competitors because they base their value on proprietary blockchain technology applications. Resources are directed toward custom-made alt-coin IOS wallets, smart contracts, and tokenization rather than direct support services. Third-party integrations do offer technical support when needed.
Warranty. A one-year warranty applies to machine defects, but the software is excluded from liability. This is satisfactory to market conditions, but not ideal.
Security. The machine contains standard security protocols and steel manufacturing, but most of the security comes from its extensive software technology. Chainbytes is considered an enterprise solution, and it contains premium software components designed for the protection of all internal systems. As proof, Chainbytes maintain decentralized autonomous organization (DAO) transaction records, which involves a high level of security.
Compliance. Chainbytes covers all major compliance requirements for you — but it does come with an extra fee. For $1500, a third party will send a designated compliance officer to ensure registration with FinCEN, KYC, AML, and any other location-specific regulations. The machines themselves have the required ID scanners, thermal printers for receipts of QR codes, and customer identification cameras.
Chainbytes BTM models
As for physical machines, Chainbytes offers three options: Two versions of two-way stand-up kiosks (you can both buy and sell cryptocurrencies with your fiat money) and a one-way desktop style. The most recent Chainbytes 2.0 + is the more feature-laden upgrade to the standard stand-up model, offering a touch screen display, cold-rolled steel, additional top mount marketing screen, and a cash recycler.
For those with smaller budgets and fewer feature requirements, the desktop model may be of interest. It maintains regular one-way transactions at a better price point (an average ROI spread of 3-6 months). Each kiosk is customized according to the requirements of your business, all within simple white label redesigns.
As the Bitcoin ATM market continues its rapid growth, owning a Bitcoin ATM is a profitable venture. But your return on investment will hinge on the quality of your ATM kiosk and its supporting partners. Chainbytes scores well on our list of metrics. For businesses wanting scalable technologies beyond blockchain with simple machine customization, their kiosks are ideal.
If you would like a quote on a Chainbytes Bitcoin ATM, contact us here, and we would be happy to help you through your installation process.