As one of the fastest-growing names in the ATM industry today, Hyosung America is known for its commitment to innovation and practical solutions. Based in Irving, TX, Hyosung America's line of retail ATM machines is broad and varied, offering many great features designed to meet the diverse needs of today's businesses. Their machines are also valued for their reliability, with maximum uptime and minimal maintenance.
AtmMachines.com, LLC carries nine models of Hyosung ATMs to meet a wide range of needs and price points. Let's explore these now.
Hyosung Halo II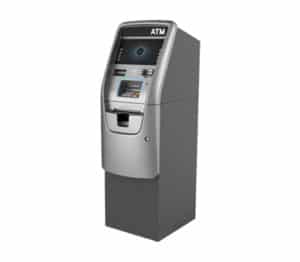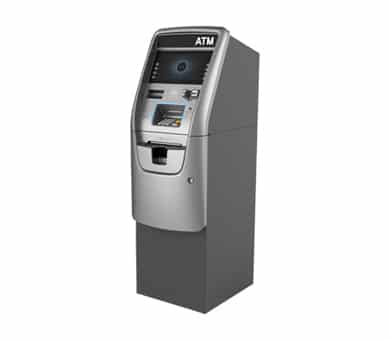 Combining affordable design with enhanced security features, the Halo II offers the best value for the price in the retail ATM market. Its compact footprint makes it ideal for small spaces, while its sleek design fits well in convenience stores and high-end boutiques alike. Its modular architecture is compatibile with ATM parts from other Hyosung retail machines, making maintenance a breeze. The Halo II also features an intuitive user-friendly interface and software for the benefit of both customers and owners, making this unit ideal for those just starting up in the ATM business.
Some of the key features of the Hyosung Halo II include:
1″ color LCD screen
LED-lit keypad
DIP card reader with EMV
Break-in protection
Paper-saving digital receipt capability
ADA compliant
Cash dispenser with up to 2000-note capability
Encrypting PIN pad (EPP) indicator
Additional options including Dynamic Currency Conversion (DCC) and cardless cash withdrawals via NFC
Click here to learn more about the Hyosung Halo II.
Nautilus Hyosung NH-2700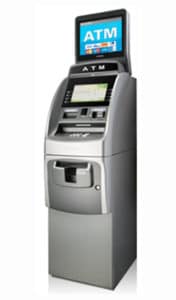 Ideal for retail businesses, the NH-2700CE offers a wide range of attractive consumer-friendly features, from advertising capabilities to streaming news and weather updates It features an energy-saving LCD display and is weatherized for outside use. The NH-2700 is also designed for extended use with low maintenance, and its open architecture makes it highly compatible for upgrades. Some of the features of the NH-2700 include:
2-inch color LCD screen
15-inch illuminated topper
DIP card reader
Security options include security camera, electronic lock and more
ADA compliant
Cash dispenser with up to 6000-note capability (up to 3 cassettes)
Other options include vibrating touch screen, barcode reader, fingerprint reader and contactless card reader
Click here to learn more about the Nautilus Hyosung NH-2700.
Nautilus Hyosung NH-1800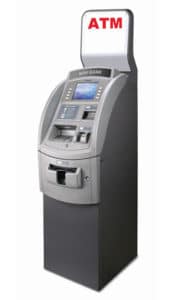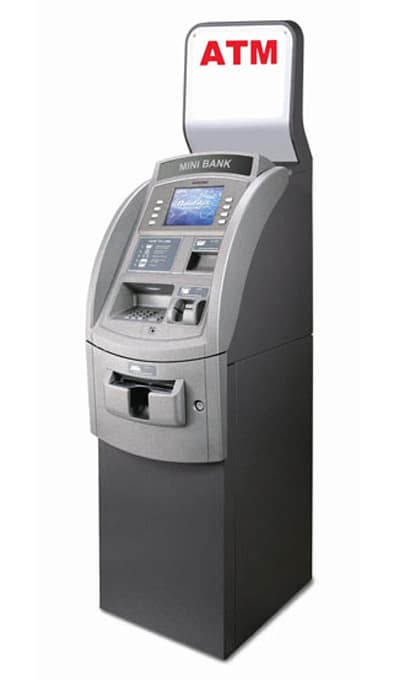 Upgraded from the earlier NH-1500, the NH-1800 offers a perfect blend of affordability and user-friendly features with a small footprint that allow it to fit almost anywhere. Features of the NH-1800 include:
8-inch color screen
Visible sign topper
DIP card reader, EMV optional
ADA compliant, including voice guidance system
Thermal receipt printer
Cash dispenser with up to 6000-note capability
Other options include vibrating touch screen, barcode reader, fingerprint reader and contactless card reader
Click here to learn more about the Nautilus Hyosung NH-1800.
Nautilus Hyosung Monimax Series
Built for high-volume use in a wide variety of applications, the Monimax series of Hyosung ATMs offers a rich array of advantages, including energy-efficient features, large screens and touchpads, security features, modular/upgradable designs, and extended cash-handling capabilities. These ATMs also allow owners to generate additional revenue by offering customers additional financial transaction services like bill-paying, check cashing, mobile top-up and more.
We currently offer the following ATM models in the Monimax series.
MX2600
Also known as the Halo-S, this machine offers a sleek design perfect for retail locations, with features that include a 10-inch screen, LED illumination and optional digital receipts. Learn more.
Nautilus Hyosung MX2600SE
Another version of the Halo II–see above for more on the features. Learn more.
Monimax 5000 (MX5000)
Combining flexibility with functionality, the Monimax 5000 offers features that include a 15-inch LCD screen with optional privacy filter, thermal printer, digital receipts, large cash capacity, and braille keypads. Learn more.
Monimax 5300 (MX5300)
This highly versatile machine comes with a 15-inch screen, optional touch screen, options for additional financial services and expandability for up to two side cars. Learn more.
Monimax 5600 (MX5600)
One of the most advanced lobby ATM machines available, the Monimax 5600 is fully web-enabled and comes equipped with a highly visible 15-inch screen, optional Vacuum Fluorescent Display (VFD), fast transaction times, multimedia capabilities, and anti-skimming features.
How to Buy a Hyosung ATM
Whether you're placing an ATM in a convenience store, gas station, restaurant, bar, hotel lobby or kiosk, Hyosung offers a variety of ATM solutions perfect for your needs at reasonable prices. To learn more about Hyosung ATM products as well as other brands we offer, call AtmMachines.com, LLC today at 1-866-295-2329.