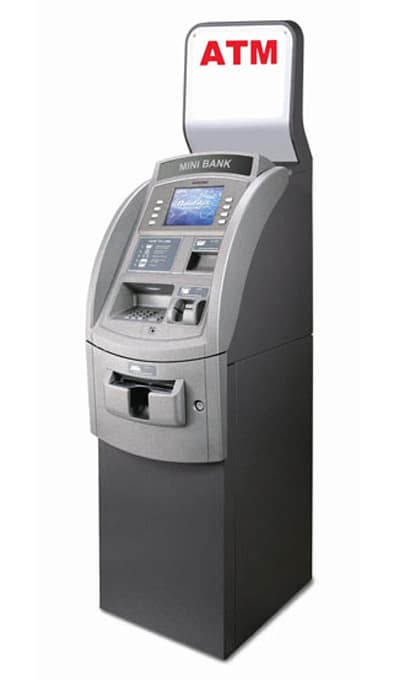 Overview
The NH-1800 from Nautilus Hyosung is an upgraded version of the NH-1500 with more exciting features and options for customers. An affordable ATM, it is both stable and reliable, and it even features a topper that makes it more visible in crowded areas. Customers will enjoy its voice guidance system, its transaction guidance indicator, and the unit's arrangement, which makes it easier to use.
---
Advantages
Every transaction is fast, accurate and secure, thanks to state-of-the-art technology that includes UL291 and VISA/PCI EPP-certified software.
The NH-1800 is versatile enough for any business and any type of customer. It can hold up to 6,000 notes and provides a variety of price ranges. Specifications for the display and safe are customizable.
This ATM is also flexible enough to work in any size space, thanks to its ergonomic design and small footprint.
The 7-inch display and voice guidance system makes it compatible with all Americans with Disabilities Act (ADA) standards.
Specifications
System Control: ARM 9 RISC processor and embedded platform
Customer Display: Wide 7-inch TFT Color LCD
Communication: Dial-up with optional TCP/IP and wireless connection
Input Type: 4 x 2 function keys, 4 x 4 numeric keys, VISA/PCI Encrypting pin pad, and ADA compliant
Card Handling: Dip type card reader with optional IC card reader (EMV Levels 1 and 2)
Cash Dispensing: 1,000 notes cassette with optional cassettes up to 4,000 notes
Printers: Thermal receipt printer
Security: UL business hour safety and dial lock with optional electronic safe lock and KABA Mas Cencon lock
Power Supply: AC 110 – 230V, 50 – 60Hz
Operating Environment: 40 – 95° F (or 5 – 35° C) and 15 – 85% humidity
Height: 51.3 inches (1,304 mm) or 65.3 inches (1,660 mm) with sign topper
Width: 15.7 inches (400 mm)
Depth 22.8 inches (580 mm)
Weight: 265 pounds (120kg)
Inquire About This Product
Features
Highly visible sign topper
Windows CE platform
8-inch color monitor
ADA-compliant
Dip-style card reader
Thermal receipt printer
Multilingual capabilities
Electronic journal