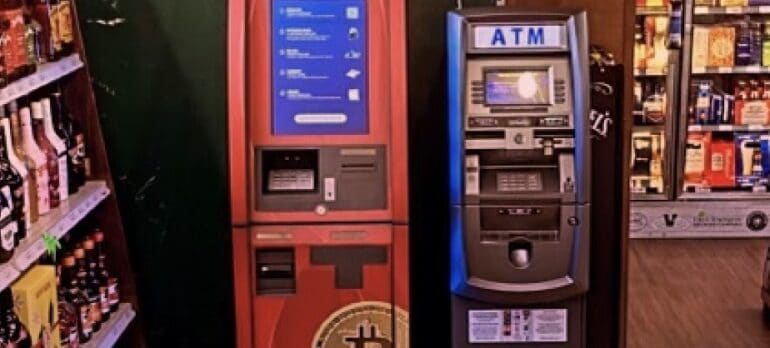 While the value of a single Bitcoin has skyrocketed compared to the American dollar and far surpassed any gains made from the S&P 500, you might still question the reliability and overall investment security of a cryptocurrency ATM. Concerns about market volatility, crypto ATM fee rates, the popularity of Bitcoin, overhead costs, and the consumer demand for physical exchanges may put you off investigating the entrepreneurial returns of a cryptocurrency kiosk.
The concerns are not unfounded, but recent data shows a robust business opportunity available worldwide:
Over 24,000 ATMs are installed globally as of July 2021 (up from the 9000 a year before)
The Crypto ATM Market was valued at $54.8 Million in 2020
The compounded growth rate is forecasted at a massive 58.7% CAGR
Investor interest, revenues, and customer desire are clearly present. Will the rapid growth of the Bitcoin ATM market continue? Can a machine create a profit in 2021? What return on your investment can you expect, and what costs will lower that return? Let's do the math on how profitable a Bitcoin ATM (BTM) can be.
What Are The Costs of Buying and Owning a Bitcoin ATM?
There are several upfront overhead and recurring costs to plan for when assessing the value of a BTM.
1. Machine Type:
Each machine type comes with differences in price point:
Freestanding – Freestanding machines are ideal for locations with ample space and convenient with minimal installation. They are the most popular kiosk type but have a higher price point (A Chainbytes model costs $6500).
Built-in – Desktop models are smaller, have fewer features, and offer a lower price point (A Chainbytes model costs $3500). That said, their installation costs are higher. Gain more real estate and security with built-in wall-mounted BTMs.
Pre-owned – Resellers markets have flourished, and you can often find models with 30-50% reductions in price. Users accept more risk and potential defects with pre-owned models.
2. Installation and Training Costs
Shipping, delivery, and installation will add to your overhead expenses, with reports stating you should expect $2-3K in startup costs. This stems from import fees, machine installation from your manufacturer, and shipping costs.
3. Transaction and Commission Fees
Your Bitcoin manufacturer processes all payments via your kiosk's software. That comes with transaction and commission fees, either as a percentage range of 1-12% or a flat monthly fee ($100 per unit, per month for Lamassu). Also, banks will charge a fee for each fiat-to-crypto exchange and will often include surcharges to Bitcoin hot wallets.
These fee rates follow market conditions or are removed depending on your financial institution, kiosk, and Bitcoin ATM manufacturer.
4. Liquidity Requirements
You are required to hold liquid assets in both fiat and cryptocurrencies, with most operators opting for a 50% percent split between both currency types. The ideal amount of liquidity is based on your kiosk's total transaction volume and if you pool cash through several machines. You will also have to maintain compliance and pay any sign-up or regulatory fees as your state requires.
5. Machine Maintenance
According to a Deloitte study, the standard ATM repair costs average about $150 a month. The price point for BTMs can increase as the supply of technicians with expertise in cryptocurrency kiosks is not as expansive. The fees come from both physical and software defects or malfunctions.
6. Operational Costs
You will also need to train employees to collect cash and operate the machine, with operators budgeting for $200-$300 per month for those intangibles. Additionally, there are the standard utility costs and supplies payments for receipt paper, branding, and customer support. The most expensive recurring operational cost is your real estate rent, depending on where you place your ATM.
So, How does a Bitcoin ATM Make Money?
BTMs recoup costs through a margin for profit attached to any fees levied on the consumer. Each machine achieves a return on investment in three primary ways:
1. Transaction Surcharges
Transaction surcharges are the direct fee percentages you apply to your customer for each transaction they make. These are the costs associated with trading crypto coins on internet-based exchanges.
Whether they are included in the spread between the fiat and cryptocurrency rate prices or applied as a percentage of the transaction, the fees involved with making a market, processing payments, and shifting currencies between hot wallets and financial institutions pass onto the consumer and can include a profit margin (often between 1-4%).
2. Commission Fees
Commission fees are the direct earnings percentage of an ATM. This is your labeled fee for service and can fluctuate as you wish, with averages quoted at 10%. Commission fees change based on real estate prices, credit card or debit card fees per transaction, costs included with hot wallet hosting, ACH fees from banks, institutional transfers, and fast payments.
Commission fees mean that the bulk of your profits comes from a high transaction volume. The average kiosk makes about 30,000 transactions a month, translating into a $3000 a month profit.
3. Increased Foot Traffic to Existing Stores
Consumer demand for the convenience of a Bitcoin ATM can drive target markets to your current business. Retailers state they earned an additional $3500 per month from the increase in foot traffic and that 25% of new customers came from a prominent Bitcoin ATM placement. For store owners, the knock-on effects of a Bitcoin ATM can further post profits.
Benefits of an ATM Processing Partner
With the rate of fees and the overall popularity of Bitcoin, a cryptocurrency ATM is still highly profitable. Many companies meet breakeven points between 3-6 months and continue with steady streams of passive income. You can judge your own earning potential and ROI timeline with this handy calculator.
You will need a company to process payment transactions between a bank and your customer (i.e., pulling up customer identifications and Bitcoin Hot wallets); with ATMmachines.com, you do not pay any of those costs, further increasing your profits. You can also take advantage of our 0% ATM processing fees when purchasing one of our kiosks.
Partner with AtmMachines.com, LLC to start a lucrative business opportunity with a Bitcoin ATM. Click here for more information about our online ATM Business Course or here to request a consultation.