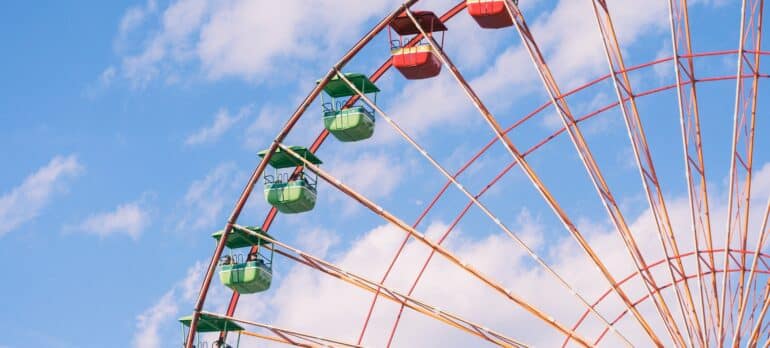 If you are thinking of becoming an ATM owner, outdoor mobile kiosks offer a range of profitable business opportunities. Whether you hope to save precious space indoors, earn cash at festivals, fairs, and outdoor events, or install drive-through dispensing services to draw in customers, outdoor wireless ATMs are an under-appreciated way to earn passive income.
Let's explore the advantages of a mobile outdoor and wireless ATM and how you can start your own ATM ownership business.
The Top Benefits of Wireless Outdoor ATMs
Because of its mobile nature, an outdoor wireless ATM offers several benefits compared to built-in kiosks.
1. Expand your target base
A stationary ATM has a maximum customer reach, but you can place a mobile wireless unit in multiple locations for far greater revenue. Set up your ATM at outdoor concerts and earn fees from large audiences who need cash. With highly secure standalone units, any social event is an opportunity, including trade shows, fairs, derbies, drive-ins, or festivals. Your customer base drastically improves with a mobile wireless ATM.
2. Increase vendor revenues
An ATM increases total customer spending and checkout size. As a result, nearby vendors will earn more and experience an improvement in transaction volume. A nearby ATM greatly enhances cash flow as customers have a convenient payment method and a simple way to access money—which contributes to more spending. And for the business owners who own more mobile, travel-ready, or flexible location businesses, a moveable ATM expands foot traffic, provides earnings off fees, and increases purchase amounts at your store.
3. Capture repeat users
For customer-first businesses, a good service experience is vital. People want convenience, and an outdoor ATM can meet that need. For example, outside ATMs do not have to adhere to indoor store hours, allowing you to offer service to late-night walk-up users and execute more transactions. A drive-up kiosk gives unparalleled ease and speed to your customers. And maintenance schedules are far easier to uphold as repairmen and supply services have easy access, leading to fewer downtimes. With such service convenience, earn repeat business from priority customers.
4. Enhance transaction convenience
Mobile outdoor units are connected wirelessly. All you need is a power source. Fast internet speed allows for rapid transaction times, complete with SSL encryption for greater security. You can remotely monitor your ATM from afar (e.g., cash supply levels, machine errors, security threats) to reduce risk and better manage your ATM route.
5. Boost kiosk usage
Kiosk placement has a direct impact on the success of your ATM. The location of your machine determines revenue-generating elements such as foot traffic levels, hours of operation, upkeep costs, and the service convenience you can provide your repeat customers. The type of profits you can earn heavily depends on your choice of ATM real estate. With an outdoor, wireless, and mobile ATM, you can strategically place your kiosk to grab attention for an increased volume of transactions.
AtmMachines.com's Outdoor ATM Placement Services
While outside ATM kiosks offer numerous benefits, the initial costs and startup requirements involve extensive effort and know-how. To help you capture those advantages (along with our knowledge as a full-service provider of ATM systems), ATMMachines.com offers outdoor placement services. We complete several critical tasks involved with ATM ownership so you can start an ATM business with minimal hassle.
As your partner, we offer a diverse range of walk-up and drive-through outdoor cash machine enclosures you can purchase—machines built with solid steel and weather-proofing for secure exterior placements. Simply select your model, and we will help ship, install, and set up the kiosk of your choice.
AtmMachines.com Outdoor ATM Types
Since each outdoor ATM placement is unique, we evaluate the specific needs of your business to ensure you get the best machine. We support the installation of the following outdoor and mobile ATM types:
Drive-through outdoor ATMs: Drive-through kiosks are an ideal solution for established businesses that deal with extensive foot traffic. Drive-up cash dispensing provides convenience and can help reduce indoor store lineups, a solution ideal for banks.
Partially-enclosed outdoor ATMs: For additional safety and shelter from the weather elements, partially-enclosed outdoor ATMs come with an overhead canopy. If you hope to place your ATM in areas with inclement weather, partially-enclosed kiosks are a good option.
Fully-enclosed outdoor ATMs: Fully enclosed outdoor ATMs are outdoor insulated spaces complete with heating and air conditioning. Such advanced protection expands the lifespan of your kiosk and allows your users to feel safe and comfortable while drawing or depositing their cash.
Branded outdoor ATMs: If needed, we will assist you with the creation of your branded material, an excellent way to advertise and allow customers to spot your ATM from afar.
ATMMachines.com's Wireless Outdoor ATM Units
The flexibility and transaction speed of an outside ATM are made possible by wireless connectivity. You only need a power source with our wireless units—ditch the cords and telephone lines.
ATMMachines use two reliable and low-cost wifi units:
OptConnect's OC-3501: OptConnect is a plug-and-play unit. Since it is preprogrammed before shipment, it is compatible with most ATM processors. Enjoy same-day setup and deployment.
DPL's Hercules Plus: DPL's Hercules is one of the most reliable wifi options. It uses cellular and ethernet connections and comes with a remote restart feature that is helpful for troubleshooting and monitoring.
Both brands offer 24/7/365 Live Technical Support, real-time monitoring, and Verizon and AT&T carrier options. Best of all, there is no cost-per-transaction, helping further reduce overhead costs.
An ATM is a lucrative business opportunity, especially if you take advantage of the many benefits an outdoor ATM placement offers. Still, startup costs and setup complexity can hurt the profits of your kiosk and extend the time it takes to earn a return on your investment. If you want to own an outdoor or mobile ATM without all the hassle, consider partnering with ATMMachines.com—we would be happy to help you with your ATM placement needs.
Contact AtmMachines.com, LLC today to learn more about our ATM enclosure services or see if you qualify for our Free Outdoor ATM program.