Ready to start an ATM business, but not sure where to begin?
National ATM Wholesale is thrilled to offer FREE downloads of The ATM Business eBook! This eBook will help even the most novice entrepreneurs learn how to start an ATM business and achieve a six-figure income without any startup capital or credit.
What You Will Learn in Our ATM Business eBook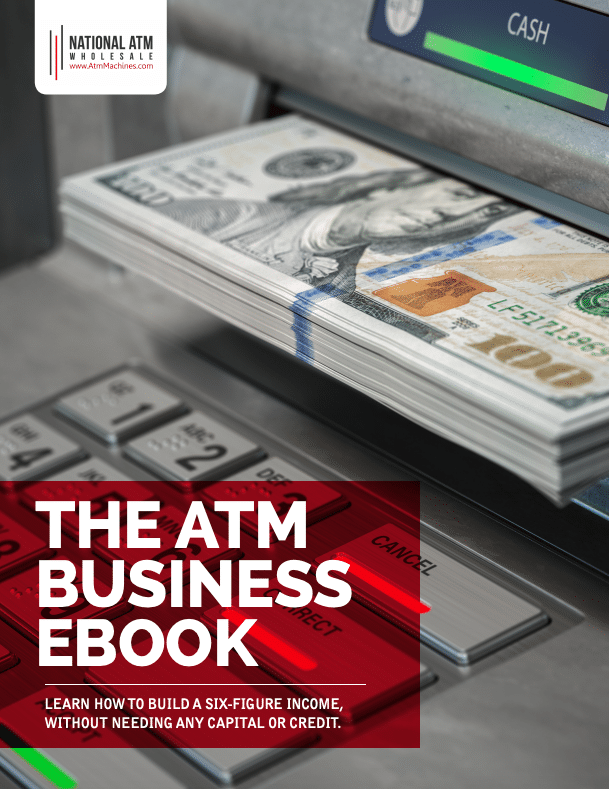 If you're looking to make a career change that offers great money (and an even better work schedule), it may be time to consider starting an ATM business. Our free ATM Business eBook will help you get there. This eBook provides you with all the tools and fundamentals you need to build and maintain a successful ATM business. We walk you through everything you need to know about:
Owning and maintaining an ATM
Setting up ATM processing
Branding your ATM business
Scouting the best ATM locations
Structuring and pitching ATM contracts
Building partnerships with other ATM operators
Managing and servicing your ATM route
Ensuring proper ATM compliance
Working festivals and other events
Standing out with value-added services
…and more!
At National ATM Wholesale, we are respected experts in the ATM industry, and we're happy to share our ATM business secrets with people looking to take stronger control over their lives and careers. To download your free eBook, please enter your name and email:
ATM BUSINESS SUCCESS STORIES
Hear from a real business owner who found success by following the same steps outlined in our eBook:
About the eBook Author, Justin Gilmore
Justin Gilmore, founder and co-owner of National ATM Wholesale, started his ATM business in 2006 without money or a high school diploma, nor any specific background in ATMs or sales. Since then, National ATM Wholesale has grown considerably and now boasts 14 employees as well as offices in Atlanta, Georgia and Greenville, South Carolina.
If you have additional questions about starting an ATM business that are not answered in our eBook, please do not hesitate to contact us. We're happy to assist!